Heartland Hall Child Development
The Best Daycare Facility In The Carmel Area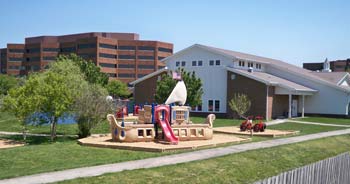 Caring Staff & Excellent Preschool Facilities
While guiding children in reaching their potential, it is important that we understand that each and every child's development is different. All children learn in different ways, and excel in different areas. Our child care staff accepts and respects the differences in every child's development because a child's self-image is vital. Our preschool teachers strive to thoroughly plan activities, while meeting the developmental needs of differing children through early childhood development principles.
The Heartland Hall Family
Heartland Hall Child Development Center encourages all parents to enter into a partnership with us to ensure their child will attain his or her fullest potential. Because of this, families enrolled are an integral part of Heartland Hall and a part of our Heartland Hall family. Our family-like setting is apparent in many important ways, one of which is administration involvement with parents & children. A fundamental cornerstone of our family-like setting is the fact that, rather than being part of a franchise or chain, Heartland Hall is family owned and operated.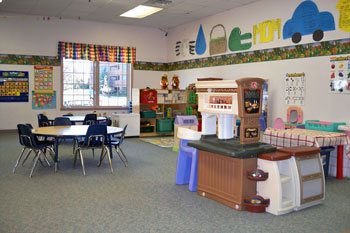 What Sets Heartland Hall Preschool Apart:
Large daycare - 24,000 sq. ft.
Library & computers
Cafeteria
Homelike atmosphere
Full gym with 24' ceilings
Security system
1 acre outside playground all grass
Degreed teachers
Academically superior
Large enclosed rooms
Toddler gym
Shaded infant & toddler play lot - all grass
Heartland Hall Classes
Piano
Tennis
STEM Coding with FirstStart ComputerScience
Paint It Kids!
Karate
Yoga
STEM Classes Offered for Pre-k and Kindergarten
Children enrolled in Pre-K and Kindergarten classes at Heartland Hall, can attend the STEM Coding classes we will offer in the Fall. These classes will feature coding projects involving numbers, colors, shapes, patterns and sizes to enhance their understanding of computational, critical and logical thinking skills.
Check out the Infant and Toddler play area. You can see how this wonderful shaded area is perfect for smaller children to play in. The playground equipment and play items are well suited to the needs of these younger children.
Another area to look at is our large indoor gym! This great big indoor space is used for many activities and gives the Heartland Hall Child Development Center Staff great flexibility during poor weather.
Special Events and Field Trips
We have special events like Goodies with Grandparents, Doughnuts with Dad and Muffins with Mom. Our age appropriate field trips are to places like farms, Lucas Oil Stadium and rock wall climbing. Heartland Hall also has special events and presentations for the children like the Silly Safaris Shows with Amazon John.
Click To Call Us (317) 815-4000
---